Archery Range News
Last Updated (Friday, 26 February 2016 11:27) Written by admin Sunday, 17 March 2013 12:03
Although having your own equipment is not a requirement for our JOAD program, it does give you a better opportunity to improve your skills. So if you want some guidance on purchases take a look at the below info.
Archery Youth Hardware Purchase Recommendations:

As far as buying a bow…  There is a lot that goes into this choice and very few of the options worth buying fall short of the $200.00 dollar mark. If you are spending less than $200.00 you are likely wasting your money. Here is a list of bows that I recommend and why. A persons "Handedness" is less important than their eye dominance. All of the bows recommended below link to right handed bows but each can be purchased LH or RH.  To determine eye dominance watch this video. Left eye dominant left hand bow.

http://www.youtube.com/watch?v=TIVayKuQGG4

Compound bows: You cannot buy a decent compound bow for less than $300.00. Compound bows are the most popular and have the greatest number of participants especially for local clubs and tournaments. Recurve shooters are always welcome at club tournaments there just isn't typically the same amount of shooters.
When looking for a compound bow for youth you'll find nearly every manufacturer has a decent option. What you want to look for is a high level of adjustability for draw length. Most offer the ability to set the bow from 17" of draw length all the way out to 28" and the limbs will increase in draw weight as you increase the draw length. the range is typically 20 to 60 pounds depending on draw length. If the bow you are looking at doesn't have that sort of range of adjustment please keep looking. If you buy a bow that doesn't have adjustments, your child will quickly outgrow it if it ever fit at all. The one caveat is if your student is 16 or older an you believe they have stopped growing in that case and adult bow is a great choice. If the bow you are looking at sells normally for less that $300.00 then it's not going to be worth purchasing. Those ultra cheap bows you buy at the box stores are crap and should be avoided. We use genesis bows for the club bows but I do NOT recommend them for individual purchases. Their benefit is that multiple people can shoot them without needing to adjust them. This makes them good for clubs but when you are trying to improve your skills you want a bow that fits you specifically and not a one size fits all solution.
Hunters Friend is a great website for info, I highly recommend their pre-configured packages.
http://www.huntersfriend.com/bowpkg2-youth.htm


Rather than providing too many links that may not be current I suggest you take a look at all of these manufacturers they all have great offerings.
PSE -Fever, Miniburner  http://pse-archery.com
Diamond- Infinite Edge, Atomic http://www.diamondarchery.com
Bear Archery -Apprentice http://www.beararchery.com
Martin Archery -Explorer http://www.martinarchery.com
Hoyt -Ruckus and Ruckus Jr http://www.hoyt.com


OK, I get it, you don't want to compare and contrast you want me to just tell you what to buy. OK fine these two are excellent choices from a reputable manufacturer and available at hunters friend, though you may need to call to be able to get the Atomic.

For the under 4 foot teeny weeny crowd Diamond Atomic

http://www.diamondarchery.com/#/productBreakdown?r=products_products&i=42

for the 11 or 12 year olds and above the diamond infinite edge is a great bow.

http://www.diamondarchery.com/#/productBreakdown?r=products_products&i=42
Recurve bows:
Basically recurve bows are for those folks who like the traditional look or who have Olympic aspirations. The Olympics only allow recurve bows. As far as length goes it's better to go larger so I would recommend 66 -68" bow. Draw weight you should start out light perhaps 16-25 pounds or even lighter until they have developed good form and then they can crank up the weight or buy new limbs.
I tend not to get to wrapped up in bow length instead choosing to err on the side of an overly long bow if you want to have a general rule of thumb you can take a look at this.
http://www.learn-archery.com/proper-bow-size.html

Starter recurve bows:

Plastic\metal riser lightweight easy to hold up and inexpensive
http://www.lancasterarchery.com/las-rolan-66-recurve-bow.html

Wooden riser inexpensive an light weight for that traditional look and feel
http://www.lancasterarchery.com/samick-polaris-66-takedown-recurve-bow.html
Aluminum riser for a very stable platform with a little extra weight and accuracy.
http://www.lancasterarchery.com/pse-optima-66-recurve-bow-rh.html
Plastic\metal riser lightweight easy to hold up and inexpensive
http://www.lancasterarchery.com/cartel-triple-66-takedown-recurve-bow.html

Intermediate Recurve bows:
The most common standard system for mounting bow limbs to bow risers (the handle) is called the International Limb Fitting or ILF. When ever possible I encourage parents who can afford it to buy an ILF riser and limbs. They are better quality and hold their value better. ILF bows are typically sold with the riser separate from the limbs. Make sure you ask for a string when you buy the two together.
What is ILF video
Lower end International Limb Fittings ILF:
http://www.lancasterarchery.com/pse-summit-g2-recurve-bow.html really low end and my least favorite option

http://www.lancasterarchery.com/hoyt-horizon-25-recurve-riser.html

http://www.lancasterarchery.com/samick-avante-25-recurve-riser.html

http://www.lancasterarchery.com/cartel-fantom-25-recurve-riser.html **** My Recommendation ****

Limb recommendations:
http://www.lancasterarchery.com/w-w-sebastian-flute-axiom-plus-recurve-limbs-27800.html **** My Recommendation ****

http://www.lancasterarchery.com/samick-privilege-recurve-limbs.html


Arrow recommendations:

For bows 45 pounds and under I recommend these:
(Spine should be at least 600) Point weight a good generic weight would be 100 grains for all of these google for the best pricing, but they are all available from LancasterArchery.com

Beman hunter Jr.
http://beman.com/products/ics-hunter-junior/

Gold Tip makes a decent youth \ budget arrow called the Lightning for a little bit more you can get the Falcon 34's
http://www.goldtip.com/productdetail.aspx?ptid=27

Victory V-Force V6, are durable and straight a great beginner shaft. and they also have the V-Force Jr.
http://victoryarchery.com

Intermediate to Advanced Arrows:
For the more discriminating archer who wants the very best quality of shaft read the Carbon university information it will give you all you need to know.
http://www.huntersfriend.com/carbon_arrows/hunting_arrows_selection_guide_chapter_1.htm

As far as actual recommendations
Easton Carbon one *** Highly recommend ***
http://www.eastonarchery.com/products/arrows/carbon-one-shafts
Victory VAP V3
http://www.victoryarchery.com
Carbon Express Medalion XR
http://www.carbonexpressarrows.com/archery/target-arrows/medallion--xr







Archery Shooting Shed
Last Updated (Thursday, 04 November 2010 15:38) Written by Pat Moore Thursday, 04 November 2010 15:37
We now have a shooting shed where the archers can stand to stay out of the the rain. Unfortunately there is no power yet at the range so during the winter months it's a little more challenging finding times you can shoot at the range.
Bears in the woods
Last Updated (Monday, 29 November 1999 16:00) Written by Pat Moore Thursday, 04 November 2010 15:05
Please be advised during the summer of 2010 a sow and her 2 bubs were sited on and around the archery range. There is a large number of berry bushes that appear to be attracting their attention. While on the range make sure you are making plenty of noise to ensure that you don't wend up with a startled bear. In all sightings the trio have left the range in great haste and we would like that trend to continue. Please do not encourage any kind of human bear interaction.
Shoot straight and enjoy the range
Pat Moore Archery Director
Persistent Visitor
Last Updated (Thursday, 04 November 2010 15:06) Written by Administrator Tuesday, 08 July 2008 16:59
Persistent Visitor
Wildlife on the Range. Here is a picture of one of the deer that seems to have developed a lack of fear when it comes to the range. She has been chased from the range on multiple occasions. She is nearly tame and there has also been a fawn with her most of the summer. This is a picture of her as she came down to investigate the the archery range.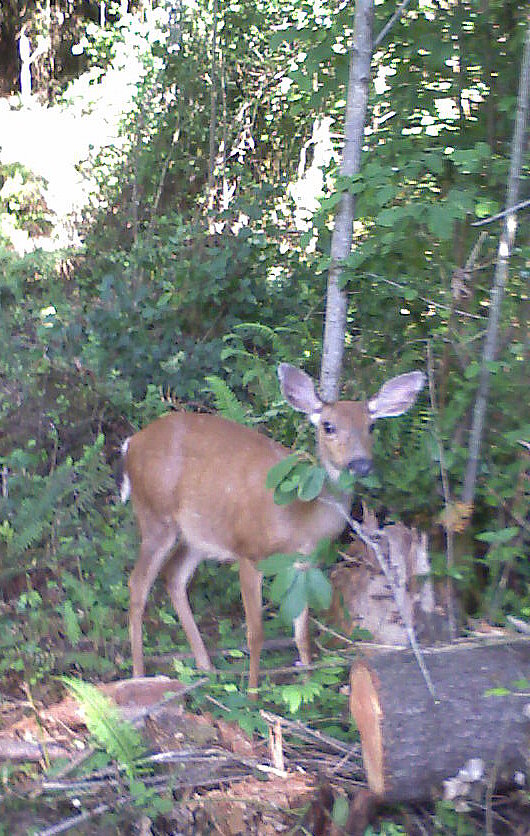 Last Updated (Tuesday, 06 May 2014 19:17) Written by Administrator Thursday, 26 June 2008 07:16

Welcome to the Issaquah Sportsmen's Archery Page!
The Issaquah Sportsmen's Club (ISC) Archery range is for the explicit use of their members and their guest.
Please read the range rules for hours and operation instruction.
The Range Consists of multiple targets ranging from 20 to 65 yards. Including a 40 yard broadhead sand pit. (The sand may affect the sheen of your arrows but does not damage carbon arrows) 

Only certified members will be given access to the archery range. You must take a short orientation exam to become ISC archery certified.
These are the three critical documents you should read and understand. Archery Orientation info, Range Rules, Range Test. there is a pdf button or a print button at the top of each article to make it easy for you to print out the documents.
Contact info: This e-mail address is being protected from spambots. You need JavaScript enabled to view it
ALL NEW!!! ARCHERY NIGHT for MEMBERS:
"Members Open Shoot" every Monday night from 6:30PM-8:00PM at the "Rifle Range"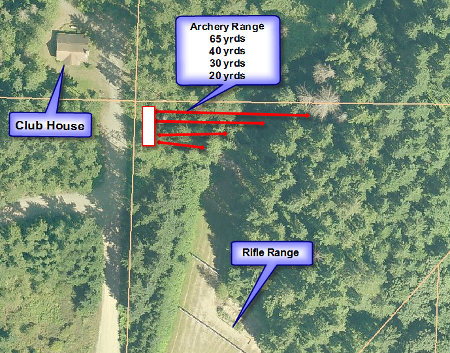 More Articles...
Page 1 of 2